Rats Control in Croydon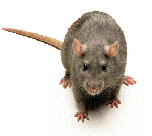 The common rat (Brown or Sewer rat) is very nervous of new object - known as 'neophobia'. They live under buildings, in refuse heaps, in holes and in sewers. Their lifespan is between 9-18 months and can produce up to 7 litters of 8-10
Brown rats will burrow and live outdoors, indoors or in sewers and nest in burrows. Black rats are non burrowing and will nest mainly in walls, vines or trees. The Brown rat can climb, but is not agile - unlike the Black Rat.
Brown Rats are good swimmers and are predictable in habit, unlike the black rat.
The more common Brown Rats are approx 335g in weight and tend to have a bulky body with small hairy ears and a blunt nozzle (black rats will be pointed). They are either brown or brown-grey in colour. Their droppings are approx 12mm and spindle shaped and can be either in groups or scattered. They have a scaly tail which is normally 3/4 length of the head and body. Black rats are slightly smaller and weight 200 grams. Brown rats have a harsh and shaggy fur, whilst the Black rat has a smoother, softer fur.
Rats are omnivorous. The Brown rat will eat meat, whereas the black rat will east mainly fruits, nuts, grains and vegetables. They can both consume up to 30g per day, they need to drink water or eat food with a high water content.
Rat prevention in Croydon
Our experience gives us the knowledge to quickly find the rodent's weakest spots and use them in the fight against rat infestations in homes. We know how dangerous these creatures can be to you and your home, so we make sure to achieve great results when performing our professional rat control service from the start to finish.
It is key to locate and seal all of their hiding spots because this leads to successful rat extermination. That's why the local exterminators will check the property for any openings and will try to seal those to prevent the pest from entering - this takes place in every rat removal service we conduct.
Rats Treatment in Croydon
Your personal rat exterminator will follow a strict procedure in order to get rid of the rodents. Here's what to expect:
The pest exterminator will perform a complete check-up of your property using the latest industry equipment to locate each and every problem zone and mark it for treatment. He will assess the threat and will pick the most suitable method of rat control.
Your Croydon rat exterminator will then perform the proper rat removal techniques to get rid of all the pesky rodents on the premises. He will make sure that you are constantly informed during the process.
Your expert will give you some practical tips on how to avoid future infestations of rats, and how to keep your home safe and pest-free. A full rat control treatment may take up to three weeks so your exterminator will return to inspect your property once again and check if everything is okay. He will get rid of all rodent carcases for you and will evaluate the results of his work.
Take control of your pest problems now. For free quote/estimate, call us on
0208 227 0103 (Freephone) or contact us now!
<< Back to Pest Identification
Share this page on