Pest Control
Bed Bugs

Bed bugs are round flat insects of a rich reddish brown colour that cannot fly. They must either crawl or be passively transported in clothing, luggage and furniture etc.
In temperate climates bed bugs reach their peak numbers towards early autumn. They do not carry disease but their blood feeding can cause severe irritation in some people, resulting in loss of sleep, lack of energy and listlessness, particularly in children.
Bed bug bites mainly consist of a raised red bump, accompanied by intense itching. They are caused by an allergic reaction to the bug's saliva and the bites can take several days to appear.
The bites may also generally be seen in 3s, which distinguishes them from flea bites.
Bed Bugs Infection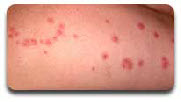 Take control of your pest problems now. For free quote/estimate, call us on
0208 227 0103 (Freephone) or contact us now!
<< Back to Pest Identification
Share this page on