Why choose Quick Pest Control?
Emergency Call Out

Guaranteed Control of All Pests

Beat Any Genuine Quotation

Four Area Offices in London (Central London, Greenford, Tooting and Ilford) to extend good quality services

All Technicians Are Fully Qualified

Entomologist Consultant on Board

Special Discounts for Commercial Business, Landlords and Letting Agencies

Professional, Friendly and Efficient

Use of non-toxic monitoring and inspections techniques
Services Offered
Quick Pest Control provide tailor-made pest control services dependent on your circumstances and budget. From individual visits to long-term contracts, we are confident that we can provide you with an unrivalled service at a highly competitive price.
Based locally, we are able to beat any call-out time of the major pest control companies. We take pride and care in providing professional, friendly and efficient services and products that are tailored to meet the needs of each client. Please feel free to call us to discuss your particular needs.
Call us now on 0208 227 0103 or send us email at sales@qpcl.co.uk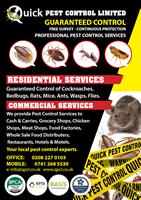 Download our latest flyer
We specialises in offering a range of both organic and conventional treatments, integrated pest management and, wherever possible, we use non-toxic monitoring and inspections to minimise the use of insecticides. We also provide residential and commercial proofing service for long-term effective pest control for your property.
Share this page on