Electric Flying Control (EFK)
Electric Fly Killers or Fly Zappers and Electronic Glueboard Flykillers stop, kill, get rid and stop Flies and Flying Insect Pest Infestations.
We sell the best Electric Grid - UV (Ultra Violet) Blue and Black Light - Fly Killers and Fly Killing Machines and Electronic Glueboard Flykillers for DIY Domestic or Commercial use.
We have an extensive range of Discreet Electric Fly Killers which are effective for use in the Home or in Restaurants and Food Outlets. Our selection of Discreet Electric Flykillers which are suitable for use within the home, office or catering business use glue boards for catching and killing Flies and Flying Insects whilst also providing attractive background lighting.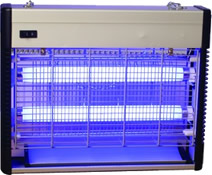 We also sell for you to buy online Garden and Patio Lantern Electric Flykillers which are for Domestic or Professsional use.
Our Electric Flykilling Machines are the best and most effective Fly, Moth and Flying Bug Zappers which give you instant Fly and fFying Insect Pest Control!
Call us for information and quote about latest products and their availability.
Share this page on